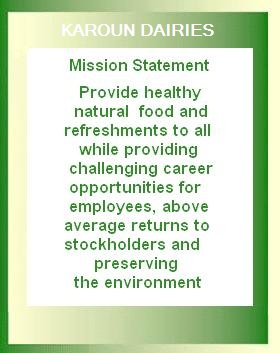 Karoun Dairy Products Company Mission
KAROUN DAIRIES is a practitioner of product innovation that relies heavily on benefit segmentation. It enters markets by introducing a new product with a new benefit rather than launching a me-too product. KAROUN DAIRIES brand different types cheese and dairy products have different backgrounds.
KAROUN DAIRIES motto is ICEE:
- Innovation
- Commitment
- Excellence
- Excitement

KAROUN DAIRIES' objective has always been to make available to every individual fresh dairy products and Mediterranean cheeses of premium quality by applying hygienic practices.


In 2007, KAROUN DAIRIES INC. cheese company incorporated in New Brunswick, began operations supplying Mediterranean different types cheese to retailers in Canada. Karoun brand Mediterranean original braided string cheese, Ackawi cheese, Nabulsi cheese, grilling cheese and different types cheese are produced in the traditional artisan Mediterranean way from first quality Canadian cow milk.
In 2008, KAROUN DAIRIES SAL licensed to, KARLACTI, Inc., a USA corporation, the Karoun Dairies brand logo, trade dress, processes and formulae to use for Karlacti different types cheese and dairy products.
KARLACTI brand different types cheese are now on the US market!
The Original KAROUN DAIRIES SAL endorses all KARLACTI brand products which are under its constant supervision. KARLACTI, Inc. is the exclusive licensee of KAROUN DAIRIES SAL in USA.
Today, the Original KAROUN DAIRIES is well implanted in North America through its above mentioned licensees to serve its clients dairy products and different types cheese.

WARNING!
KAROUN DAIRIES SAL does not sponsor KAROUN, ARZ, GOPI LASSI, YANNI, Queso Del Valle, Central Valley Creamery and all other products originating from KAROUN DAIRIES, Inc. of California.
All Karoun Dairies family products sponsored and controlled by Karoun Dairies SAL are always stamped with
quality sign since 1931.
Karoun Dairies President and CEO, Mr. Ara Baghdassarian, grown in the family dairy business is a food quality expert.

He holds in addition to his MBA degree from the American University of Beirut (AUB), an ISO 22000 Practical & Implementation Training Certificate from the Lloyds Register Quality Assurance (LRQA) London, UK and a HACCP in practice Certificate – credit pass from the Chartered Institute of Environmental Health (CIEH) London, UK.